Main content starts here, tab to start navigating
food & drink
food & drink
chef's tasting menu
We offer a tasting menu of the season's best for $85 pp. Tell us what you like to eat, we'll take care of the rest. Beverage pairing featuring womxn-made wines available for $65pp.
the garden
watermelon

heirloom tomatoes, serrano pepper

$15

trumpet mushrooms

roasted sugar snaps, pickled purple peas, fennel

$16

watercress panzanella

scallion, duck fat crouton

$15

ratatouille

summer heirloom squash, japanese eggplant, peppers

$16

carrots

harissa crunch, sheep's labneh

$15

brussels sprouts

lemon, honey

$17

green beans

wild mushrooms, egg, tarragon, shallots

$15

heirloom tomato rice

sungold tomato, arborio rice, pecorino, basil

$16
the parker house rolls
with vegetables & almond dukkah goat butter

$16

with beluga caviar & creme fraiche

$38

with foie gras & peach jam

$24
the bar menu
featuring hudson valley foie gras (available only at the bar)
pecorino gougeres

$8

the burger

only available at the bar. muenster cheese, lettuce, red onion, pickle, foie mayo

$22
dessert
by pastry chef rochelle cooper & team
almond cake & husk cherries

vanilla, sheep's milk yogurt

$13

sweet corn ice cream bar

caramelized peaches, caramel corn, basil

$13

farm berries & cream

berry preserves, ricotta cloud, crispy salted oats

$13

apple caramel cake

honeycrisp sorbet, demerara sugar

$13

dark chocolate cremeux

poached pear, rye chocolate crumble, tangerine lace

$13
after dinner drinks
old westminster winery, "solera" madeira-style blend

westminster, md

red tail ridge, auslese riesling

finger lakes, ny

don ciccio & figli, "concerto" espresso liqueur

washington, dc

espresso

ceremony coffee, annapolis, md
in lieu of gratuity, a 22% service charge is applied to all checks to help professionalize pay in the restaurant industry. Please check out our why 22% page for more details.
the sea
kampachi crudo

cucumber, avocado puree, smoked harissa

$18

roasted halibut

leek, corn saffron beurre blanc

$28

rotisserie dorade

heirloom tomato, purple shiso, shallot

$42
the land
lamb chops

fennel puree, rainbow chard, vadouvan spice

$30

short rib

potato puree, garlic, ras el hanout spice

$28

rotisserie chicken

cilantro zhoug & sheep yogurt

half $32

whole $55

rotisserie pekin duck

citrus vinaigrette, scallion

half $58

whole $98
the cocktails
cucumber gin & tonic

gin, fever tree cucumber tonic, juniper berries

$17

dirty martini

vodka, pickled carrot & celery brine, vermouth

$14

husk cherry bee's knees

tomcat gin, clove honey, lemon

$16

mezcal thyme mule

mezcal, housemade shrub, ginger beer

$14

spiced apple margarita

tequila, cider, chai tea, lemon

$15

squash blossom manhattan

bourbon, squash blossom pepper vermouth, byrrh

$15

zero-proof

rotating shrub, sparkling, seasonal herb
wines by the glass
As a womxn-owned and operated business, our entire "by the glass" list showcases wines crafted by womxn winemakers or are sourced from womxn-owned wineries. Like our cuisine, our list features flavors from across America plus the coastal regions that inspire it.
the bubbles
red tail ridge, "perpetual change" reserve brut nature

finger lakes, new york

by nancy irelan

tavignano, "la birba" frizzante rosé

marche, italy

by ondine de la feld
the whites
galen glen, gruner veltliner

lehigh valley, pennsylvania

by sarah troxler & daughter erin troxler

old westminster, "home vineyard" albariño

westminster, maryland

by lisa hinton & siblings

land of saints, sauvignon blanc

santa barbara, california

by angela osborne

aslina wines, chardonnay

elgin, south africa

by ntsiki biyela
the rosés & skin-contacts
tessier, rosé of pinot noir

santa cruz, california

by kristie tacey

istine, sangiovese rosato

tuscany, italy

by angela fronti

day wines, "vin de days l'orange" blend

willamette valley, oregon

by brianne day
the reds
eric kent, "appellation series" pinot noir

santa rita hills, california

by hanna hollingsworth & kent humphrey

division wines, "les petits fers" gamay noir

willamette valley, oregon

by kate norris & thomas monroe

red newt cellars, "glacier ridge" cabernet franc

finger lakes, new york

by meagz goodwin & kelby russell

côte bonneville, "train station" red blend

walla walla, washington

by kerry shiels
the beer & cider
denizens, "born bohemian" pilsner

silver spring, maryland

owned by emily bruno

floribunda, rosé cider

salorno, italy

by magdalena egger & father franz egger

night shift brewing, "santilli" ipa

everett, massachusetts
Slide 1 of 4
Slide 2 of 4
Slide 3 of 4
Slide 4 of 4
Join us Saturday & Sunday for seated brunch service
10 am to 3 pm
Reservations recommended!
(coffee and pastries available at bar for take-out)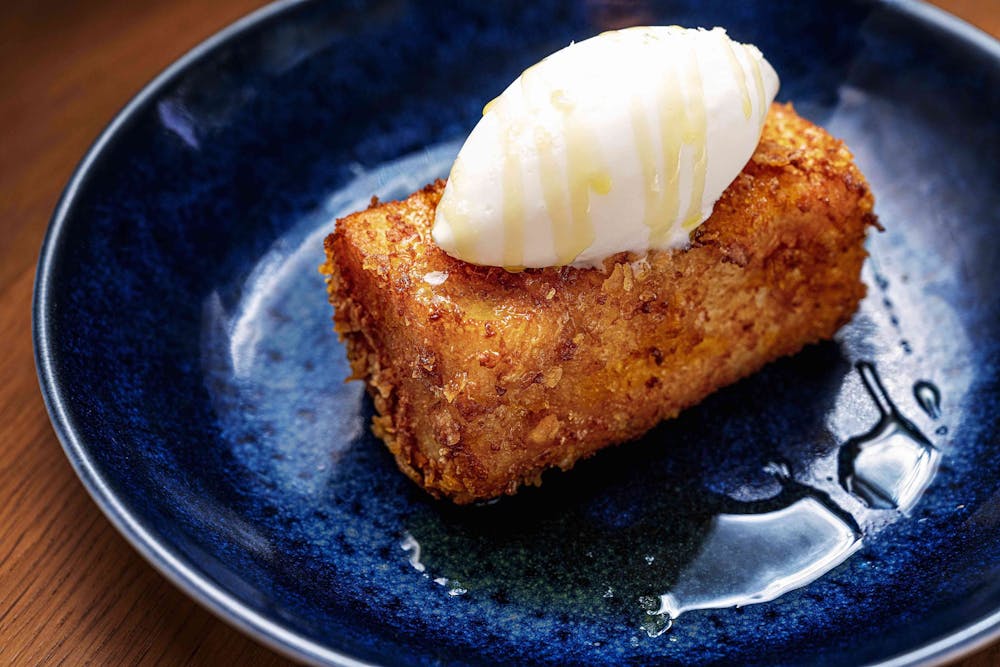 In lieu of gratuity a 22% service charge will be applied to your total bill to help professionalize pay in the restaurant industry.
the sweet
french toasty

brioche, french toast spice, honey ice cream

$13

dairy, egg, wheat

pancakes

salted maple, goat butter single | double

$7

$13

dairy, wheat

lemon ricotta crepe

sheep's milk ricotta, meyer lemon curd, oat crumble

$12

dairy, egg, wheat

cinnamon roll

cream cheese frosting, orange zest

$6

egg, wheat

banana chocolate muffin

passion fruit curd, cocoa nibs

$6

dairy, egg, wheat
the savory
potatoes benedict

jamon, duck fat hollandaise, poached egg

$17

egg

avocado toast

soft egg, almond dukkah, sumac shallots

$14

tree nut, egg, wheat

add smoked salmon $8

huevos rancheros

beer-braised beans, eggs, avocado, tomatillo salsa verde

$16

dairy, egg, wheat

chorizo scamble

green onions, arugula, lemon vinaigrette

$15

gluten free

scrambled blt

bacon, scrambled eggs, lettuce, tomato

$15

egg, wheat

grains & greens

bulgur, quinoa, avocado, radish, lemon vinaigrette

$12

wheat

add two sunny-side eggs $4

add smoked salmon $8
the add-ons
duck fat home fries

house spices

$7

tree nut

goat butter'd toast

wheat, brioche, or gluten-free

$4

dairy, wheat

eggs your way

two how you'd like it (except hard-boiled)

$5

smoked salmon

ivy city smoke house

$8

chorizo sausage or country bacon

$7

seasonal fruit

$5
brunch cocktails
peach & fennel sptritz

yellow peach, don ciccio finocchietto, cava

$13

iced irish coffee

whiskey, cold brew, don ciccio concerto, whipped cream

$13

bloody mary

tomato, vodka, horseradish, lime

$13

mimosa

$12

"pitcher" $48

orange thyme shrub-mosa

$12

"pitcher" $48

lavender espresso tonic

gin, espresso, lavender, tonic

$16
coffee & espresso
by ceremony coffee in annapolis, maryland
house brewed cold brew

$5

espresso | americano | macchiato

$3

cappuccino

$5

latte

$5

drip coffee

$3
tea & shrubs
golden milk latte

turmeric, chai syrup, steamed milk

$5

hot tea by teaism

caffeinated hojicha green | mint | english breakfast | chai herbal chamomile | ginger zing

$4

unsweetened iced tea

$4

seasonal shrubs

orange thyme

$5
brunch wines
As a woman-owned and operated business, our entire "by the glass" wine list and many of our drinks showcase products crafted by woman makers, and/or sourced from woman-owned businesses.
pares balta, cava brut

penedes, sp

$12

gato wines, "prunus" vinho branco

dão, portugal

$12

istine, sangiovese rosato

tuscany, italy

$13

red tail ridge, blaufränkisch

finger lakes, ny

$13
beer & cider
denizens "born bohemian"

$8

three floyds "gumballhead"

$8

floribunda rosé cider

$15