Main content starts here, tab to start navigating
food & drink
food & drink
chef's summer tasting menu
We offer a tasting menu of the season's best for $85 pp. Tell us what you like to eat, we'll take care of the rest. Beverage pairing featuring womxn-made wines available for $65pp.
the garden
watermelon

heirloom tomatoes, serrano pepper

$14

gem lettuce lettuces

lemon, pecorino, goat's cheese caesar dressing

$13

green & white asparagus

ricotta, hazelnut & tarragon dressing

$15

ratatouille

summer heirloom squash, japanese eggplant, peppers

$14

watercress panzanella

scallion, duck fat crouton

$15

green beans

wild mushrooms, egg, tarragon, shallots

$16

trumpet mushrooms

sugar snap peas, pickled purple peas, fennel

$15
the bakery
our freshly baked parker house rolls... how would you like them?
parker house rolls with summer vegetables

goat butter, almond dukkah spice

$15

Parker House rolls with beluga caviar

creme fraiche, chive

$30

parker house rolls with foie gras & jam

strawberry jam, black pepper, brioche

$20
the bar menu
featuring hudson valley foie gras (available only at the bar)
the duck&peach burger

lettuce, red onion, house pickle, foie mayo

$22

pecorino gougeres

$8
dessert
lemon basil ice cream bar

meyer lemon, basil sponge cake, hibiscus

$12

chocolate caramel delight

mousse cake, coconut caramel, chocolate shell, marshmallow

$13

sticky toffee cake

sweet potato cake & sherbet, toffee sauce, pecans

$12

cherry caramel tart

5-hour dulce de leche, macerated cherry, tart crumble

$12
after dinner drinks
old westminster winery, "solera" madeira-style blend

westminster, md

red tail ridge, auslese riesling

finger lakes, ny

don ciccio & figli, "concerto" espresso liqueur

washington, dc

espresso

ceremony coffee, annapolis, md
in lieu if gratuity, a 22% service charge is applied to all checks to help professionalize pay in the restaurant industry. Please check out our why 22% page for more details.
the sea
tuna crudo

carrot, soy, kumquat, serrano, cilantro

$16

seared scallops

salsify, grape, mint, shallot, lemon

$22

rotisserie whole dorade

fresh herb mojo verde, citrus

$40
the land
dry aged butcher steak

pickled carrot, pea shoots, beef tallow

$26

lamb chops

fennel puree, rainbow chard, vadouvan spice

$28

rotisserie half green circle chicken

cilantro zhoug & sheep yogurt

$36

rotisserie half pekin duck

citrus vinaigrette

$52
cocktails & mocktails
mezcal mule

mezcal, housemade shrub, ginger beer

$13

our gin & tonic

monkey 47 gin, fever tree cucumber tonic, juniper berries

$18

spring vesper

tito's vodka, freeland gin, capitoline vermouth

$13

vermouth spritz

cocchi rosa, rosé bubbles

$16

strawberry basil smash

rum, aperol, strawberry basil shrub

$14

coffee boulevardier

decaf coffee-campari, rye, orange vermouth

$17

zero-proof

rotating shrub, sparkling, seasonal herb
wines
bottle selections rotate, list available upon request.
our List

features wines from women winemakers and winery owners.

sparkling

parés baltà, cava

penedes, es, NV

vigna san lorenzo, "col tamarie" frizzante

veneto, it, 2020

floribunda, rosé cider

salorno, it, 2020

venturini baldini, "rubino del cerro" lambrusco

emilia-romagna, italy NV

whites

tatomer, riesling

santa lucia highlands, ca 2018

inconnu, chenin blanc

clarksburg, ca, 2018

leah jorgensen, sauvignon blanc

rogue valley, wa, 2018

silva daskalaki, "vorinos" vidiano

crete, gr, 2019

red tail ridge, "sans oak" chardonnay

finger lakes, ny 2020

rosé & in-between

izadi, "larrosa", garnacha rosé

rioja, spain, 2020

valérie forgues, "glasting", rosé

loire, france, NV

channing daughters, "ramato" pinot grigio

north fork of long island, ny, 2016

red

duskey goose, "rambeaux" pinot noir

willamette valley, or, 2020

division wine co, "les petits fers" gamay noir

eola-amity hills, or, 2020

garcia & valencia, "y lo otro también", garnacha & macabeu

catalonia, es

haywater cove, merlot

north fork of long island, ny

cosimo taurino "notarpanaro" negroamaro

puglia, it, 2012

côte bonneville, "train station" cabernet sauvignon

yakima valley, wa, 2018
beers
abita, "purple haze"

bell's "two hearted"

brooklyn brewing, lager
Slide 1 of 3
Slide 2 of 3
Slide 3 of 3
Join us Saturday & Sunday for seated brunch service
10 am to 3 pm
Reservations recommended!
(coffee and pastries available at bar for take-out)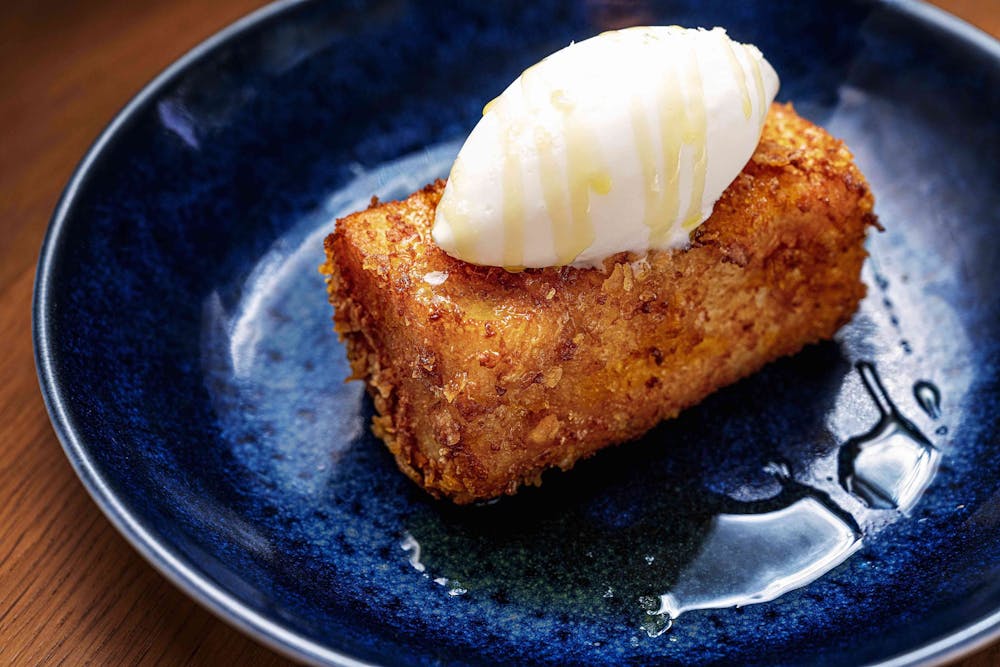 In lieu of gratuity a 22% service charge will be applied to your total bill to help professionalize pay in the restaurant industry.
pastries
deliciousness from Pastry Chef Rochelle Cooper
cinnamon roll

cream cheese frosting, orange zest

$5

egg, wheat

banana chocolate muffin

passion fruit curd, cocoa nibs

$5

dairy, egg, wheat
to eat
jamon & potatoes

duck fat hollandaise, poached egg

$15

egg, wheat

huevos rancheros

beer-braised beans, eggs, avocado, tomatillo salsa verde

$15

dairy, egg, wheat

cornflake toasty

brioche, french toast spice, honey ice cream

$12

dairy, egg, wheat

maple pancakes

salted maple, goat butter

$13

dairy, wheat

lemon ricotta crepe

sheep's milk ricotta, meyer lemon curd, oat crumble

$11

dairy, egg, wheat

avocado toast

soft egg, almond dukkah, sumac shallots

$12

tree nut, egg, wheat

add smoked salmon $6

chorizo scamble

green onions, arugula, lemon vinaigrette

$13

gluten free

earl grey chia pudding

winter citrus, chia seeds, red grapes, pomegranate

$9

dairy free, gluten free

brunch blt

bacon, scrambled eggs, lettuce, tomato

$15

egg, wheat

grains & greens

bulgur, quinoa, avocado, radish, lemon vinaigrette

$13

wheat

add two sunny-side eggs $4

add smoked salmon $6
to add
just a pancake

maple syrup

$5

wheat

duck fat home fries

house spices

$7

tree nut

toast & butter

wheat or brioche with buffalo butter

$3

dairy, wheat

chorizo sausage

$7

country bacon

$7

side of fruit

winter fruits

$5

eggs your way

two how you'd like it (except hard-boiled)

$4

smoked salmon

ivy city smoke house

$7
to drink
strawberry basil smash

aperol, rum, shrub, lemon

$12

mimosa

$10

"pitcher" $48

shrub-mosa

orange thyme or strawberry

$11

"pitcher" $48

espresso martini

vodka, espresso, coffe liqueur, vanilla

$12

bloody mary

tomato, vodka, horseradish, lime

$12

iced irish coffee

whiskey, cold brew, don ciccio concerto, whipped cream

$13
coffee & espresso
by ceremony coffee in annapolis, maryland
house brewed cold brew

$5

espresso | americano | macchiato

$3

cappuccino

$4

latte

$5

drip coffee

$4
tea & shrubs
golden milk latte

turmeric, chai syrup, steamed milk

$5

hot tea by teaism

caffeinated hojicha green | mint | english breakfast | chai herbal chamomile | ginger zing

$4

unsweetened iced tea

$4

seasonal shrubs

orange thyme | beet apple

$5
brunch wines
As a woman-owned and operated business, our entire "by the glass" wine list and many of our drinks showcase products crafted by woman makers, and/or sourced from woman-owned businesses.
pares balta, cava brut

penedes, sp

$10

$40

silva daskalaki vorinos vidiano

crete, gr, 2020

$12

$48

izadi grenache rosé

rioja, sp 2020

$12

$48

division wine co, "les petits fers" gamay noir

eola-amity hills, or 2020

$14

$56
we are excited to welcome back our signature rotisserie chicken dinners for take-out on sunday nights. prepared and packaged with easy reheating instructions, its the perfect meal to enjoy in the comforts of your home.
dinner includes:
a signature whole rotisserie chicken with tatsoi & fingerling potatoes
roasted green beans & wild mushrooms
gem lettuce caesar salad with duck fat croutons
parker house rolls & butter
4 salted chocolate chip cookies
pick up is available on sundays between 4pm and 6pm.
we hope you'll kickstart your week with us. place your order here.